INTERNATIONAL (TEACHING) WEEK
March 4-8, 2019
PRACTICALITIES
Public Transport
Taxi
Phone Cards
Currency Exchange
Weather
PUBLIC TRANSPORT
Vilnius trolley buses and buses start running at 5 in the morning and stop at midnight. For the timetables please visit http://www.marsrutai.lt/ or http://www.vilniustransport.lt/
Tickets:
There is available E-Ticket (electronic ticket called "Vilniečio kortelė"). "Vilniečio kortelė" can be credited with an appropriate amount of money and/or the selected public transport tickets. With a valid ticket in the e-ticket, properly activated on board of public vehicle, if necessary, it is possible to change the public transport for free and for unlimited number of journeys.
New "Vilniečio kortelė" costs 1,50 EUR. It can be purchased from a red press kiosk next to most bus stops.

| | |
| --- | --- |
| Electronic ticket | Cost |
| 30 minute ticket | 0,65 EUR |
| 60 minute ticket | 0,90 EUR |
| 1 day (24 hour) ticket | 5,00 EUR |
| 3 days (72 hour) ticket | 8,00 EUR |
| 5 days (120 hour) ticket | 12,00 EUR |
There is an option to buy a ticket from the driver of the public vehicle. Single ticket from the driver costs 1,00 EUR.
TAXI
Currently standard fare for Vilnius taxi is from 0,5 Eur to 1 Eur per kilometer. Taxi companies really often calculate and boarding fee, which is about 1-2 Eur. On weekends and holidays, especially in the evenings, taxi rates rise significantly. It is advisable to call a taxi by phone because you will also pay more if you will board a taxi which is parked on the street.
If you have any doubts about the applicable fees, just request a travel receipt from taxi driver at the end of the travel. A receipt must contain the following information: a final price for the service, price per 1 km, time, travel route, car number and full name of the driver.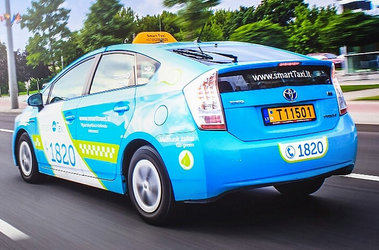 Smart taxi
http://smarttaxi.lt/
+370 5 200 0820
1820
E-taxi
http://www.e-taxi.lt/
It is possible to book on-line.
To download apps to your mobile phone and order the taxi at necessary time.


PHONE CARDS
There are three basic service providers of mobile connectivity: "Telia", TELE2 and "Bitė". You can get the prepaid cards: "Ežys" ("Telia"), "Labas" ("Bitė") or "Pildyk" (TELE2) at all kiosks or designated trading places.
See more information: http://prepaidwithdata.wikia.com/wiki/Lithuania
Each of them offers different tariffs and terms, so you will be able to choose one which best suits to your needs.
CURRENCY EXCHANGE
Euro – official currency of Lithuania since 1 January 2015.
Official exchange rates can be found on the website of the Central Bank of The Republic of Lithuania www.lb.lt
You can exchange your currency in all banks in Lithuania. They are open from morning till appr. 4-5 pm.
"Stotis Client Service Division" of "Medicinos bankas" (Geležinkelio Street 6, LT-02100 Vilnius, http://www.medbank.lt/ ) is open 24 hours every day.
WEATHER
Weather in Lithuania is an unpredictable issue. Please check the current forecast, e.g. http://www.meteo.lt/ . Take some warm clothes and umbrella with you!